Get Instant Information about the The Snow Status, Availabilities, Prices, via our Instagram(
), Or by sending an E-mail via our Contact us Form
In a country whose center is covered with two vast deserts including the hottest spot on earth (70 degrees Celsius in Dasht-e Lut), the last thing you'd expect to see is a ski resort. But much to your amazement, you will find not just one but more than 20 ski resorts in Iran. Two of the most popular of these ski fields are located around the capital, Tehran. Dizin and Shemshak ski resorts in Iran, located in the majestic snowy peaks of Alborz mountains offer a wide range of snow entertainments. Shemshak ski resort which is a ninety-minute drive from the capital is the favorite ski resort for professional skiers, due to its steep slopes and tricky runs. But Shemshak is not all about pro skiers conquering one slope after another swishing by the amateurs and spectators. There are a lot of rookie skiers who enjoy skiing at Shemshak and if there is occasional tumbling, that's half of the fun. Now, for those who are captivated by snow and skiing, this can be a fresh opportunity, for travelling to Iran is cheap and renting skiing equipment will cost you around 17 USD per day. If you desire no ski-related activities and just want to enjoy the natural beauty of the mountains you may try Shemshak's famous cable cars and join the small black dots travelling amidst the perpetual whiteness of Alborz heights. In Iran skiing is considered a luxury pastime and Shemshak is the place that attracts the more audacious and adventurous youth. As an ideal holiday spot for skiers specially in January and February, Iran ski resorts including Shemshak, provide quality accommodation.
Hotels in Shemshak
The images that immediately follow a day of intense skiing and reveling in snow are those of
warm baths and a sound sleep
in a comfy room. Shemshak ski resort fulfils this longing by presenting topnotch accommodation for the skiers from all around the world. Visitors to Shemshak have two options for their lodging.
Shemshak Hotel
and Barin Hotel both located in Shemshak region are the most popular hotels during the ski season in Iran. In the heart of Shemshak's beautiful ivory peaks, Shemshak Tourist Hotel is ideal for guests who pine for experiencing the sublimity of Shemshak's vibrant meandering slopes. The facilities and services of the hotel are basic and standard and being in the proximity of the ski resort is a huge advantage of this charming hotel. But if you are one of those people for whom the first priority is the splendor of the lodging, then you may let yourself be swept away by the sheer elegance of Shemshak Barin Hotel, a white dome of comfort clothed in the ingenuity of modern architecture.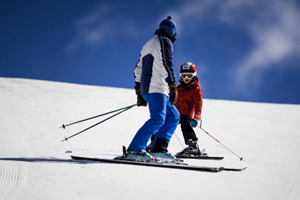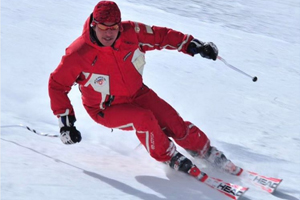 Shemshak Tourist Hotel
Located near the majestic peaks of
Alborz mountains
,
Shemshak Tourist Hotel
invites the mountaineers and skiers to shake the fatigue from their limbs by relaxing in the warm comfort of its cozy rooms. Shemshak Ski Resort is one of the first ski fields in Iran and Shemshak Tourist Hotel is the oldest hotel in the region with more than forty years of proud service. This quaint but stylish hotel is unique among Shemshak hotels for being the nearest to the ski fields. Generations of Iranians have had their first experience of skiing while staying in Shemshak Tourist Hotel which used to be called Shemshak Ski Hotel by the locals. Residence in Shemshak Tourist Hotel is indeed very reasonable budget-wise in comparison with the larger and more luxurious Barin Hotel.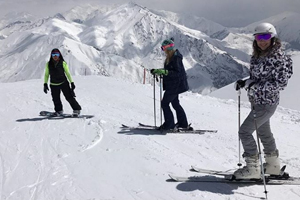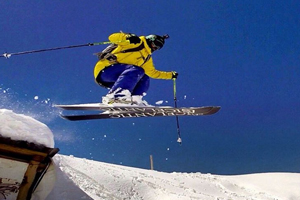 Shemshak Barin Hotel
Modern architecture
in the midst of snow-dipped mountains? Is it possible some might ask. The answer is a definitive yes! After descending the wild slopes of Shemshak ski slopes and being caressed all day by the magic powdery snow, your eyes glitter with amazement at the sight of an ivory white edifice. This is Shemshak Barin Hotel, a stunning work of modern Iranian architecture. Never have nature and a manmade structure been in such a perfect synch as in the igloo-formed rooms and glacial façade of this modern masterpiece. Barin Hotel, the only five-star hotel in Shemshak, sets new standards for first-class luxury service in ski lodges with 4 luxurious penthouses each equipped with a fancy modern kitchen, amazing king-size beds with cuddly cushions as well as a breathtaking view of the mountains. Moreover, the master chef and the affable staff of Barin Hotel restaurant are ready to impress your palate with a wide array of delectable dishes. Barin Hotel is a short drive from the ski resort of Shemshak and being the most popular residence in Shemshak, Barin Hotel provides ski resorts enthusiasts with online booking. Thus, if you want to relish the glory of this palatial residence, be quick to book since you have to compete with a lot of eager contenders!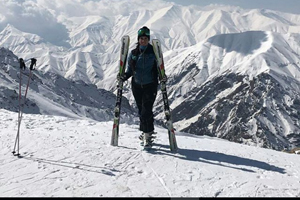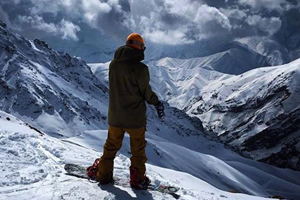 Shemshak Piste Map
A quick look at
Shemshak piste map
tells you why here is a treasured field for professional skiers. While other ski resorts in Iran including
Dizin Ski Resort
are ideal for skiers of multiple levels, here the map shows us very steep runs varying in altitude from 2549 to 3049 meters above sea level and replete with moguls. Shemshak Ski Resort map further indicates that there are two main slopes in the resort each equipped with a chair lift. Adjacent to the chair lift, there are the cable cars stations. The cable cars are frequented by groups of boisterous young people who keep the atmosphere jovial all the time. And finally lighting facilities in the piste is the icing on the cake as it furnishes those who seek some nocturnal adventure with amazing light.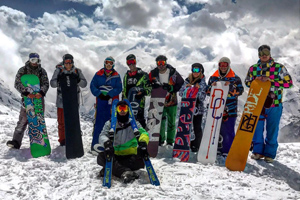 Shemshak Ski Tours
What is your leisure worth? Are you an eccentric who always answers the call of
a new adventure
? If yes then how about a wild run in the lofty snow-capped mountains of Iran? Our amazing Shemshak Ski Tours renders this adventure possible. Shemshak is the ideal place for skiing as it boasts some of the most spine-tingling slopes and mogul runs in the Middle-East. Skiing enthusiasts in Iran are very lucky as they have a wonderful ski season of about four months between December and April. Iranians usually ski in the national holidays or at the weekend so those who fancy a dive in a vast empty piste will have the time of their life during the week days in Iran Shemshak Ski Resort. Moreover, skiing in Iran is extraordinarily economical as the price for daily admission to Shemshak Ski Resort is only about 20 Euros. The trip is also unbelievably convenient; our native tour guides will pick you up from your residence in Tehran (preferably a hotel) and will be there for you until the end of the tour. Whether you seek a safe haven to revive after a consuming year of heavy work or simply crave a dose of adrenaline, try the euphoric heights of Alborz mountains and the bumpy mogul runs of Shemshak piste in Iran and you won't be disappointed. Our
Iran Ski Tours
is one of the most popular of our packages.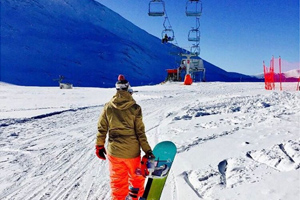 Shemshak Weather
There are many official websites that present daily
weather forecast for Shemshak
so it is recommended that you check the weather prior to booking a hotel or embarking on a ski tour. In spite of being smaller than equally famous Dizin, Shemshak Ski Resort has the advantage of a steady annual snowfall which guarantees the necessary amount of good powder for an ideal skiing experience. In other words, the quality and preservation of snow remain superb all through winter and early spring. Although Shemshak is generally best suited for advanced skiers, its lower slopes could entertain intermediate skiers or even beginners who need to brush up on their snow skills. However, no matter how good a skier you are, be sure to pack up some warm clothes because nobody wants to ski down the slopes with a running nose and a high fever!
Après-Ski Scene
To compete with the sheer magnitude of
skiing experience in Shemshak
, the après-ski scene has a lot to offer. There is a thing or two for every taste and palate. There are coffee shops in the vicinity of the resort that serve refreshing hot beverages and small snacks to the worn-out skiers as well as a fully-equipped supermarket where you can find everything from chips and Cheetos to local products including the mouthwatering dried fruits and the famous Shemshak Lavashak. As for restaurants, the choice is between cheap and tasty fast-food diners and restaurants serving traditional dishes including delicious skewed lamb kababs. For those who wish to dine in a more elegant atmosphere, the sumptuous restaurant of Barin Hotel will definitely appeal as its menu includes international cuisine as well as local dishes.
Tehran's Hotels and Hostels
There are many types of accommodation in Shemshak and in its vicinity. But still many people opt for
Tehran hotels
or hostels as their accommodation for the night. Well the reason is that you can find the best hotels and hostels of the country in Tehran. And beside quality, the incredible range of these lodges is also important. You have literally hundreds of choices in Tehran's staggering wealth of hotels, hostels and guesthouses. Tehran's five-star luxury hotels (no.1 in Iran) are the perfect place for those of you accustomed to residing in elegant abodes. Its budget hotels will serve superbly those not keen on paying the sky-high prices of deluxe accommodation. And the variety of
hostels in Tehran
will be the highlight of any budget traveler's journey with their youthful ambiance and amiable staff. An important factor about these hostels is that making reservations in them is fairly straightforward. Take Seven Hostel in Tehran for example. You can make a reservation in Tehran's most popular hostel by referring to its official website and do the online booking in less than no time.